Biography
Nina Nowak
leading and the most distinguished young generation Polish classical and symphonic singer.

Type of voice - alto, contralto.
"Ms.Nina Nowak is a brilliant contralto singer, who has a tremendous, unique and beautiful voice with a beautiful dark color, suited for the most advanced repertoire, possessing a rich artistic experience in her professional career. She is an outstanding artist on the oratorio stage and very well- known from multiple, long-lasting co-operation with concerts held in Europe and the both Americas.

By concert reviews she is highly appreciated as an excellent performer of numerous leading parts and highly valued singer and a leading lady of soloists alto roles created in oratorio works.

In my opinion she is a great performer, fully authorized to show her vocal experiences to the most prestigious festivals and concert series around the world …"

Prof. Krzysztof Penderecki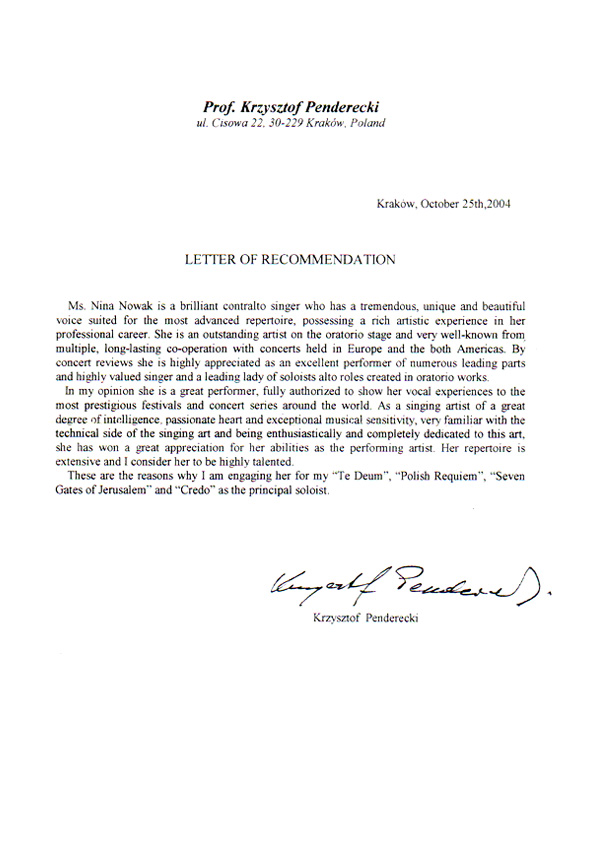 Opinion about the artist of the most famous Polish composer Prof. Krzysztof Penderecki
Nina Nowak comes from an polish aristocratic family with large musical traditions. Born in the southern part of Poland- Podkarpacie in a beautiful more than 1000 –year old city – Przemyśl.
She represents the highest class, professionalism, extraordinary beauty and talent. She began learning to play the piano at the age of 3 in the piano class of her grandmother, the famous pianist Anna Jankowska , her mother and in the class of prof. Jarosława Popowska from the Conservatory of Music in Lviv.
She went to the first grade of music school when she was only 4 years old. She graduated with distinction piano and organ classes from Artur Malawski Primary and Secondary State Music School in Przemyśl with two diplomas She also graduated with distinction from K. Morawski College in Przemyśl with math and physic profile as major.
She took part in numerous olympiads in mathematics and physics reaching the central level. Her wonderful happy family home, located on the top of the highest hill, always wrapped in wonderful golden rays of sunshine in the clouds - remembers as the happiest years of her childhood, youth and inspiration for the next years of her career and longing always to return to her family home.
Nina Nowak graduated with distinction from the Vocal and Acting Department of the Karol Szymanowski Academy of Music in Katowice in the singing class of prof. Michalina Growiec.
In addition, she graduated from the organ class under prof. Władysław Szymański. She also did a PhD doctorate in music sciences and vocal at the Music Academy in Katowice under prof. Eugeniusz Sasiadek.
She performed with the most prestigious Polish and international symphony orchestras under the baton of such conductors as: Krzysztof Penderecki, Jacek Kaspszyk, Gabriel Chmura, Tadeusz Wojciechowski, Zbigniew Graca, Jacek Mirosław Błaszczyk, Tadeusz Serafin and many others.
She trained her vocal skills with prof. S. Vittucci at the Vienna Conservatoire and with prof. N. Mackie at the Royal Music Academy in London.
She collaborated with the greatest Polish composer Krzysztof Penderecki, appearing in his Te Deum, Polish Reguiem, Credo, Seven Gates of Jerusalem and Symphony nr 7.
Nina Nowak specializes in symphonic music - from classic to light music, through operetta, musical, film music of leading Polish and international composers, and in sacred music. Her passion are great symphony and oratorios. She also appears in the stage and gala repertoire.
She has a large private library of Polish and international scores ,arrangements of excellent instrumental compositions for the symphony orchestras and choirs which she provides to orchestras she performs with including the composers like: John Williams, Hans Zimmer, A.Lloyd Webber, James Horner and many others.
Her favorite programs with symphony orchestras include:
, Aries and songs of great masters ''
"The most beautiful sacred arias"
''Polish international carols ''
New Year's carnival repertoire include:
"The most beautiful opera, operetta, musical arias" "Polish and international film music "
And many others.
Her symphonic repertoire she uses to sing is:
Mahler Gustaw – ''Kindertotenlieder '' "
III Symfonia d-moll '' No 8
"II Symfonia c-moll"
"VIII Symfonia Es-Dur- Sinfonie der Tausend" Alt I, Alt II "Das Lied von der Erde"
"Das klagende Lied"
"Lieder eines fahrenden Gesellen"(Schoenberg version)
Penderecki Krzysztof - ''Symphony No.8 '' "
Te Deum" "Requiem Polskie"
"Seven gates of Jerusalem" "Credo"
' A sea of snow blew over me-Songs of reflection and nostalgia''
Verdi Giuseppe - "Requiem"
''Stabat Mater ''
Wagner Richard - "Wesendonk- Lieder"(Hans Werner Henze-version)
Webber Andrew Lloyd- "Requiem"
Prokofiev Sergei - "Alexander Nevski" (Op. 78)
Górecki Mikołaj - Symphony No. 3 Mournful songs - in arrangement for contralto
Karłowicz Mieczyslaw - Songs for the Symphony Orchestra
Czajkowski Piotr - Songs and arias for symphony orchestra Zimmer Hans - Gladiator Theme-Now we are free
And many others.
The artist's favorite oratorio works include
Bruckner Anton- ''Te Deum ''
Bach Johann Sebastian -
"Hohe h-moll Messe" BWV 232 "Matthaeus- Passion" BWV 244
"Johannes Passion" BWV 245 "Magnificat D-dur" BWV 243 "Oster-Oratorium"
"Weihnachtsoratorium" BWV 248
Beethoven Ludwig - "IX Symphony"
"Messe C-dur"
"Missa Solemnis D-Dur" (Op. 123)
Brahms Johannes - "Alt- Rhapsodie" (Op. 53)
Bruckner Anton - "Missa F-Dur"
"Missa f-moll"
"Te Deum" Dvořák Anton - "Requiem" (Op.89)
Dvořák Anton - "Stabat Mater"
Dvořák Anton - "Biblicke pisne"
Dvořák Anton – ''Gipsy songs'' "
Songs by Mother taught me"
Liszt Franc- ''Oratorio Christ ''
Haendel Georg Friedrich - "Samson"
"Judas Maccabaeus"
"Te Deum"
"Messiah"
"Theodora"
"Friedens- Ode" HWV 74
"Stabat Mater"
"Theresienmesse"
"Missa Sanctae Caeciliae C-Dur"
Kilar Wojciech- Missa pro pace
Mozart Wolfgang Amadaeus - "Requiem d-moll"(KV626) "Missa C-Dur" (Kroenungs-messe )KV317
Pergolesi Giovanni. - "Stabat Mater"
Rossini Gioacchino - "Petite messe solenelle"
"Stabat Mater ''
Vivaldi Antonio - "Stabat Mater"
"Gloria"
And many others.
In March 2009, she sang in Jordan at the World Peace Gala with the Jordan National Symphony Orchestra combined with the London Symphony at the Royal Amphitheater in Amman at the special invitation of the Gueen of Jordania.
The gala was organized by King of Jordan Abdullah II and Queen Rania along with the International Red Cross . Many rulers and government representatives were present as. The live broadcast of the concert American stations spread all over the world.
Nina Nowak has performed many times in Jordan, Kuwait, United Arab Emirates, Morocco for the ruling royal families, the income from which was allocated for the construction of hospitals in the poor countries of Africa and Asia under war, and to help starving children.
In May 2009, the artist sang two prestigious concerts with the National Philharmonic in Kuwait to celebrate the Chopin Year.
On June 7, 2012, at the invitation of UEFA President MICHEL PLATINI, Nina Nowak sang at the great GALA UEFA EURO 2012 opening of the EUROPEAN FOOTBALL CHAMPIONSHIP at the Royal Castle in Warsaw.
In 2015, Nina Nowak recorded an unigue album with the Orchestra of the Grand Theater- Polish National Opera in Warsaw entitled ,,Nina Nowak sings about love '' "The Most Beautiful Opera Operetta Arias, World Hits of Polish and International Film Music''.
On July 26, 2016, she sang at the opening of the World Youth Days in Cracov and during the solemn Mass celebrated by the Holy Father Francis.
In 2018, she sang at the celebrations of the 100th anniversary of regaining the independence of the Polish State organized by the Polish Armed Forces Command, the 100th anniversary of the Polish Air Force and the Navy.
She also sang charity at the World Summit of Aviators in memory of the victims of World War II organized by the Armed Forces Command in Warsaw - at which celebrations came to the capital from around the world living pilots who fought during the war with Nazi Germany.
She gladly participates in charity actions - the construction of hospitals of war-affected areas of distant Asia, and the Middle East.
She has a sensitive and tender heart.
She is involved in helping sick women after breast mastectomy, in cancer and heart transplant patients - she organizes many concerts of help and support to fight the disease - everything is always charitable in the name of our God message - care and help for another human being. She loves animals, fights for their rights. She has two wonderful dogs and two tiny puppies at home.